Who is Great Wolf Lodge in Traverse City Good For?
Great Wolf Lodge has been in Traverse City, Michigan since 2001 – the third in the GWL chain to open (after the Wisconsin Dells and Sandusky locations.) It's one of a handful of indoor waterparks in Michigan – which begs the question – who is Great Wolf Lodge good for and is it worth the sometimes hefty price tag?
Over the years, our family has become GWL connoisseurs… my youngest started going when she was around two years old and now that she's nine she still begs to go.
But you need to make up your own mind and I respect that. In this article, I outline my experiences with Great Wolf, include some helpful tips, and layout the pros and cons of Great Wolf Lodge in Traverse City for you so you can make an informed decision before booking a reservation.
*This post contains affiliate links.
What to Expect at Great Wolf Lodge in Michigan
Great Wolf Lodge (GWL) in Traverse City is an indoor/outdoor water park built for families. While similar to other GWL destinations, they are not all the same. The Traverse City location is smaller than some others around the country, and attractions can vary from destination to destination.
It used to be that only guests with a room were allowed to use the water park facilities. Recently, though, GWL Day Passes came onto the scene. Price varies by market and the prices do vary tremendously.
Whether you choose to go for the day or spend the night (the best option, IMO) here's what you need to know:
What are the rooms like at Great Wolf Lodge in Traverse City?
Rooms vary in size and design at the Traverse City Great Wolf Lodge, but all are lodge-themed.
Some rooms sleep up to 6, 7 or 8 people and may offer a separate bunk-bed room or loft. Some rooms have balconies. Even standard rooms that sleep 4 come with a microwave and a mini-fridge, amenities that I find very helpful. Themed rooms include the KidKamp Suite, Wolf Den Suite or KidCabin.
We booked the KidCabin for my son's 11th birthday and the bunk-bed room was great for giving the birthday party boys a place of their own to hang out.
What is the Waterpark like?
First, let me say, I felt my kids were safe at Great Wolf Lodge.
My kids are 3 years apart in age and it's impossible to keep them all together. Thankfully, the park's attentive lifeguards and life jackets helped me handle my fears. I spent most of my time helping the 5-year-old float the lazy river while the 8 & 11-year-olds gave the waterslides a run for their money.
The water park is divided into a few different sections.
There's a four-story water treehouse in the middle of the park equipped with a giant 1,000-gallon tipping bucket. Adventurous kids love this!
Off to the right, the younger kids have their own section with smaller slides, a shallower pool and spray toys.
The far end of the park houses the water slide and lazy river, while the obstacle course is located close to the entrance by the pools. The pool area is kept warm, at about 84 degrees, so it's comfortable for most kids and adults.
With so much running water, it's pretty loud in the water park area. It's not as loud as that water park at Double JJ Resort; their water park has walls made of metal whereas Great Wolf Lodge's wooden walls dampen the sound a bit.
In the summer, the outdoor section of the park is open. Two large pools with play toys and a splash area are a nice treat.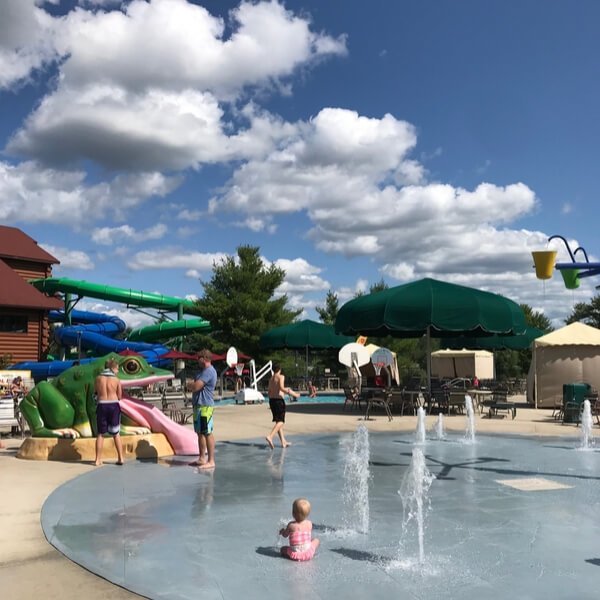 My kids will play for hours at the park, only stopping to wolf down food.
Can I Bring My Own Food or Buy Food at Great Wolf Lodge?
All of this play is going to make everyone hungry. There are a few options at Great Wolf Lodge when it comes to food.
Poolside cafe: Order and eat right at the pool. Tables are provided. The food is decent. Hamburgers, hot dogs, chicken strips, etc. Be prepared to pay amusement park prices. Alcoholic beverages are available.
Onsite Restaurant: Towel off and head to one of the onsite eating options. (There is a Dunkin' Donuts as well as a Bar & Grille and a place to get pizza, alongside a sweet treats shop.)
Offsite Restaurant: The Traverse City Great Wolf Lodge is located in a busy shopping area and there are numerous restaurant options a short drive away. If you want local fare, head downtown. You really can't go wrong with any of the downtown restaurants. They are all phenomenal. (I personally adore L'amical.) If you're looking for a chain restaurant, Applebee's, Wendys and many other options are close by.
Pack a Cooler: As the most economical option, it requires the most forethought. While Great Wolf Lodge won't allow you to bring your own food into the water park, it will allow you to bring your own cooler of food to leave right outside the park doors. I've done this twice and have a few tips to share with you.
Your room will have a minifridge in it. Use this to store perishables and repack your cooler in the morning before you go to the park. Or leave your cooler in the car if it's cold enough outside and grab it right before you head to the park.
While you'll be able to sit at tables and chairs to eat, you won't be able to bring the towels out of the waterpark with you. You may want to bring a few towels of your own so you're not freezing while you eat.
Bring your own disposable plates, utensils, cups, and napkins.
Pack items that are easy to handle. Leftover pizza or sub sandwiches are a great option.
What are the Locker Rooms Like?
If you want to secure belongings in the water park, you'll need to pay for a locker. Locker rooms are equipped with showers but have wet floors; you'll want to bring shower sandals and shampoo along. Towels are provided but must stay inside the water park area.
Is There Anything Else to Do at Great Wolf Lodge?
If your kids want a break from the water action, you're in luck. GWL designed a complete kid-oriented resort that you won't need to leave for anything unless you want to. To that end, here are some of the other activity options you'll find at GWL. Some are free and some are fee-based.
Wolf Walk Indoor Nature Hike. 9:00 AM, lobby. No Cost.
Great Clock Tower Show. Animated animals sing and dance. Evenings in the lobby. No Cost.
Story Time. Evening in the lobby. PJ's encouraged. No Cost.
MagiQuest. Imagine a hotel that encourages kids to run around its halls. You found it! Kids purchase an expensive wand and a game and then proceed to solve a magic-filled scavenger hunt that takes them all over the property. My kids probably love this more than the water park. Kids need to be able to read to do MagiQuest, so sometimes pairing up in groups or playing as a family is your best bet. Wands can be reused from trip to trip; be sure to save them. Fee.

Arcade. Fee.
Ten Paw Alley. Kid-sized bowling alley. Fee.
Scooops Kid Spa. Ice cream-themed kids spa. Fee.
Tips and Tricks for Families Visiting Great Wolf Lodge in Traverse City
Discounts: If you are on the Great Wolf Lodge email list, special offers come frequently. Try to go midweek on teacher training days to get discounts. Also, Groupon frequently has deals for Great Wolf Lodge but they usually don't last long.
Allergies: A Grand Rapids mom says, "The Great wolf lodge franchise is notoriously good at safely handling food allergies and special meal requests. As a food allergy family, it is a joy and a relief to be somewhere where we can feel secure eating out."
Busy Times: School breaks are busiest. Although, it's also during this time that GWL puts on special events and activities, too. Halloween, Thanksgiving weekend, Christmas and Spring Break are times to avoid if you do not like crowds or paying super high prices.
Arrive early and stay late.  Your stay includes water park passes with access from 1:00 PM on the day of arrival until the water park closes on the day of departure, even though you can't check into your room until 4:00 PM. Ultimately, this means you can play in the water park for two days for the cost of a one-night stay. Have your suits packed in a separate bag to make getting straight into the pool a breeze.
Bring your own breakfast and eat in the room. You'll be able to get to the water park and start your day sooner.
Paw Pass: The Paw Pass is an activity package. It may be a good way to go if you're staying at GWL for more than a day and want to play MagiQuest. According to GWL, you save $43 with this package.
When is a Trip to GWL Not Worth It?
If your kids are two and under, consider a smaller water park closer to home. While there is a section for toddlers, it is small and the noise in the water park can be overwhelming. That said, if you have older kids, you can still easily bring baby or littles along for the ride.
If you're not interested in the water park, this is not the hotel for you. You are paying premium prices for water park access; it doesn't make sense to stay here unless you want to splash around. All of the other activities are open to the public. You could stay at another hotel and hop over to GWL to play MagiQuest or play in the arcade.
My oldest is 15 and he still enjoys playing Magiquest, but the alure of the waterpark has worn off for him. Each kid is different, though. We often see little babies through teens having fun at GWL.
All in All we Love Visiting Great Wolf Lodge in Traverse City!
At our stage of life, we love Great Wolf Lodge but can't afford to go for long stays or go very often. We view it as a very special treat and always look for discounts or other ways to save a bit.
We do pay extra for the MagiQuest games because our kids love them and spend almost as much time playing MagiQuest as they do splashing in the pool. We've visited the Double JJ water park and prefer Great Wolf Lodge. We've never been to Soaring Eagle. Avalanche Bay in Petoskey skews a little bit older, but the overall vibe of GWL can't be beat.
For us, right now, it is worth it.
I'd love to hear about your thoughts on Great Wolf Lodge. Do you think it's worth it? Do you have any tips to share? Leave a comment below!