[fusion_builder_container hundred_percent="no" equal_height_columns="no" menu_anchor="" hide_on_mobile="small-visibility,medium-visibility,large-visibility" class="" id="" background_color="" background_image="" background_position="center center" background_repeat="no-repeat" fade="no" background_parallax="none" parallax_speed="0.3″ video_mp4="" video_webm="" video_ogv="" video_url="" video_aspect_ratio="16:9″ video_loop="yes" video_mute="yes" overlay_color="" video_preview_image="" border_size="" border_color="" border_style="solid" padding_top="" padding_bottom="" padding_left="" padding_right=""][fusion_builder_row][fusion_builder_column type="1_1″ layout="1_1″ background_position="left top" background_color="" border_size="" border_color="" border_style="solid" border_position="all" spacing="yes" background_image="" background_repeat="no-repeat" padding_top="" padding_right="" padding_bottom="" padding_left="" margin_top="0px" margin_bottom="0px" class="" id="" animation_type="" animation_speed="0.3″ animation_direction="left" hide_on_mobile="small-visibility,medium-visibility,large-visibility" center_content="no" last="no" min_height="" hover_type="none" link=""][fusion_text columns="" column_min_width="" column_spacing="" rule_style="default" rule_size="" rule_color="" hide_on_mobile="small-visibility,medium-visibility,large-visibility" class="" id=""][fusion_text]
Camping and City Fun in Michigan's Upper Peninsula
Head north from Grand Rapids and you'll hit lots of cottages and summer escapes. Cities like Traverse City, Petoskey, Mackinaw, Cadillac, Grayling, and Alpena all offer retreats within an easy drive for West Michigan families. Go just a bit further and you'll find yourself at the foot of the Mackinac Bridge, staring up at rows of suspension cables lining the 5-mile bridge. Indeed, crossing the Mighty Mac ushers you into a different time and place….a place I hold with reverence and joy.
Welcome to Upper Michigan. Michigan's Upper Peninsula. The U.P.
Internet and cell service are spotty between towns up here, but that's ok. You'll be busy taking in all of the natural beauty surrounding you- and consulting the map you just bought from the corner gas station because the google maps app doesn't work so well here.
If you want to get away from it all, head to the U.P.
If you want your kids to live like you did as a child in the 80's, drive north.
If you're lucky enough to get away to the U.P. with your kids anytime soon, here are a few places I suggest you visit. The order of listings is the order our family experienced them. We only had Monday – Saturday to explore. Wish our time would have been longer!
The Big Spring in Manistique
Kitch-iti-kipi in Palms Book State Park is a must-see in the U.P. We stopped here on our drive up to Marquette, staying for an hour to see the sights.
When you visit, you'll pull yourself across Michigan's largest spring on a glass-bottom raft. The crystal clear water makes it easy to see the giant trout and other fish swimming below, and if you look carefully, you can see the springs bubbling up through the soil on the bottom.
Bonus: No charge for this experience!
[/fusion_text][/fusion_builder_column][/fusion_builder_row][fusion_builder_row][/fusion_builder_row][/fusion_builder_container][fusion_builder_container hundred_percent="no" equal_height_columns="no" menu_anchor="" hide_on_mobile="small-visibility,medium-visibility,large-visibility" class="" id="" background_color="" background_image="" background_position="center center" background_repeat="no-repeat" fade="no" background_parallax="none" parallax_speed="0.3″ video_mp4="" video_webm="" video_ogv="" video_url="" video_aspect_ratio="16:9″ video_loop="yes" video_mute="yes" overlay_color="" video_preview_image="" border_size="" border_color="" border_style="solid" padding_top="" padding_bottom="" padding_left="" padding_right=""][fusion_builder_row][fusion_builder_column type="1_1″ layout="1_1″ background_position="left top" background_color="" border_size="" border_color="" border_style="solid" border_position="all" spacing="yes" background_image="" background_repeat="no-repeat" padding_top="" padding_right="" padding_bottom="" padding_left="" margin_top="0px" margin_bottom="0px" class="" id="" animation_type="" animation_speed="0.3″ animation_direction="left" hide_on_mobile="small-visibility,medium-visibility,large-visibility" center_content="no" last="no" min_height="" hover_type="none" link=""][fusion_text columns="" column_min_width="" column_spacing="" rule_style="default" rule_size="" rule_color="" hide_on_mobile="small-visibility,medium-visibility,large-visibility" class="" id=""]
Marquette
*Portions of our trip were planned and supported by the helpful team at Travel Marquette. 
Black Rocks
Jumping off of the Black Rocks at Presqule Isle Park is a tradition in these parts. You'll find many people stepping up to the challenge on warm summer days – testing their bravery against the jump as well as the icy Lake Superior water.
If you feel like you're walking around on top of an old lava flow at the Black Rocks, that's because you are! The Black Rocks are metamorphosed igneous peridotite – in other words – rocks first formed volcanic activity and then altered by heat and pressure.
Our kids liked playing in the pools of water on the Black Rocks just as much as they liked watching the cliff jumpers. You could easily spend half a day exploring this park. Pack a picnic, and use the restrooms on your way into the park because there are no facilities at this stop.
Sunset Point is just around the corner from Black Rocks, at the north end of Presque Isle.
Here's a map of Presque Isle Park, showing the Black Rocks at #7. Note the many inland hiking trails at this peninsula park as well. Sunset Point at #8 is a beautiful scenic lookout and #9 is a nice beach. BONUS: No entrance fee for this park.
Sugarloaf Mountain, Marquette
Next up, a stop at Sugarloaf Mountain, just a few miles from downtown Marquette.
This stop is all about the views. You'll want to wear sturdy shoes as you climb the half-mile to the lookout point. Steps and benches periodically dot the trail, but otherwise, expect a path punctuated by rocks and roots. It gets steep in places and is absolutely beautiful. Plan on an hour for this stop – 20 minutes up, and lots of time to soak in the views at the top.
Dead River Falls
Also close to Marquette are Dead River Falls.
This uphill hike follows the Dead River to various falls. You'll definitely want good shoes and bug spray for this hike, and maybe a swimsuit. The first part of the hike is the hardest and where I probably wouldn't bring small kids. You scramble up a steep hill covered in roots and then hike a narrow ledge with a sharp drop off.
We saw people jumping the falls and swimming at various points in the river. Not sure how safe that is, but it was fun to watch!
Downtown Marquette
As much as I love getting out in nature, appreciating the beauty of waterfalls and Lake Superior, I also enjoy creature comforts.
Marquette is the largest city in the Upper Peninsula and its downtown reminded me of Traverse City – with a U.P. vibe. Cute shops and restaurants line the main street, while the harbor park is lush, open, and constantly hosting some sort of festival. We were in town over the Fourth of July and were treated to a Food Fest, Fourth of July parade and independence day fireworks!
My beer-loving husband was thrilled to see the breweries popping up around Marquette. I noted many adult parade-goers were drinking beer while the floats passed by… not something you see at a West Michigan parade.
We ate at a historic lunch counter and soda fountain one afternoon – Donckers. Yummy food, great ice cream. Definitely worth the stop. And we also were sure to grab a local pasty while in town. If you've never had one, it's a food the U.P. is famous for. Think pot pie ingredients – but bigger, and folded somewhat like a calzone. I really liked the veggie pasty at Jean Kay's.
Our accommodations for this trip were part hotel, part camping. We started with the hotel for two nights in downtown Marquette.
Ramada of Marquette was perfectly located for us. We knew we wanted to experience the downtown parade, fireworks, and harbor, and this hotel was about as close as we could get to the center of it all.
Popping out of our hotel to watch the parade go by was fantastically easy. My kids got lots of candy at this parade, and a fair number of popsicles too! Beds were super comfortable, the staff was welcoming and helpful, and the pool was a hit with the kids. I'd definitely stay here again. It was hard to leave, knowing I'd soon be sleeping in a tent, ha! It really was tough to leave Marquette – I have many reasons to go back. I still have a lot of waterfalls to hunt and I want to try mountain biking, which is really big here.
Our family also enjoyed biking on the extensive Iron Ore Heritage trail system in Marquette. It's a 47-mile long well-maintained trail that will keep you entertained for hours! (We did about 6 miles of the trail, as we biked out to Presque Isle park from our hotel.)
We left Marquette after two days of fun to head toward Munising and Pictured Rocks National Lakeshore. About 20 miles outside of town, we ran into Lakenenland. Lakenenland is a junkyard art trail with free admission. It was a fun stop for our family, with many interactive points. Some of the art is quite political. It made for good conversation starters.

Munising
Located at the west end of Pictured Rocks National Lakeshore, Munising is a natural jumping off point for park explorers.
We pitched our tent for two nights at Munising Tourist Park and were thrilled to score lakeside sites – even if they were rustic. I booked our site months in advance, and I'm glad I did. The campground was full every night we were there over 4th of July week. Note- the rustic sites are walk-in, meaning you must carry all of your gear down a long wooded path to your site. We earned our views!
Just outside of Munising, in the small town of Christmas, is the Bay Furnace Historic Blast Site. A short trail circles the blast furnace ruins, where pig iron was made in the iron kiln from 1870-1877. The neat thing about stopping here is searching the Lake Superior shoreline for slag, a byproduct of smelting pig iron. We had a great time searching the beach, ultimately scoring purple and green glassy rocks.
Pictured Rocks National Lakeshore
I backpacked the Pictured Rocks National Lakeshore in college. I kayaked them with my husband when we were first married. Taking my kids to see them was going to be a whole different endeavor, though. Kayaking on Lake Superior is hard work, and dangerous – with storms coming out of nowhere and being tossed against the cliffs – I didn't want to take my kids out there. Backpacking the whole length of trail wasn't an option, either. Back in college, I learned the hard way that you need to get out on the water to really see the Pictured Rocks.
We opted for a combination of short hikes and the Pictured Rocks Boat tour for our family. One of my goals on this trip, if you haven't already guessed, was to see as many waterfalls as possible.
A short quarter-mile paved trail will lead you right up to two different viewing platform at the base of Munising Falls. The waterfall drops 50-feet over a sandstone cliff and is an easy stop for families.
The boat tour leaves often and is really well done. With that said, it is a boat tour and the waves on Lake Superior can come up out of nowhere. That's what happened on our trip. I highly advise taking Dramamine before you go if motion sickness is an issue for you at all. We booked our cruise online in advance. We arrived about an hour before our cruise left because seating is first-come, first-served. Get in line as soon as you can to get the best selection of seats. We were early enough that I got to sit right on the edge… a great spot for photography!
The boat has interior and exterior riding spaces. You can move around the boat while on the two-hour trip.
The captain narrates the trip on the way out, identifying rock formations, waterfalls and digging into the history of the area.
Bridal Veil Falls is best viewed from the water. We loved passing it by while cruising Lake Superior on our Pictured Rocks Boat Tour. The waterfall is seasonal and will slow to a trickle in the late summer and fall.
MORE WATERFALLS
The short hike to Memorial Falls is exciting because you start ABOVE the waterfall. Eventually, the climb down leads you to undercut rock where you can go behind the falls. If you go beyond Memorial Falls, you come upon Tannery Falls. On our visit, though, Memorial Falls had slowed to a trickle. The entrance to these falls is via Twin Falls nature preserve.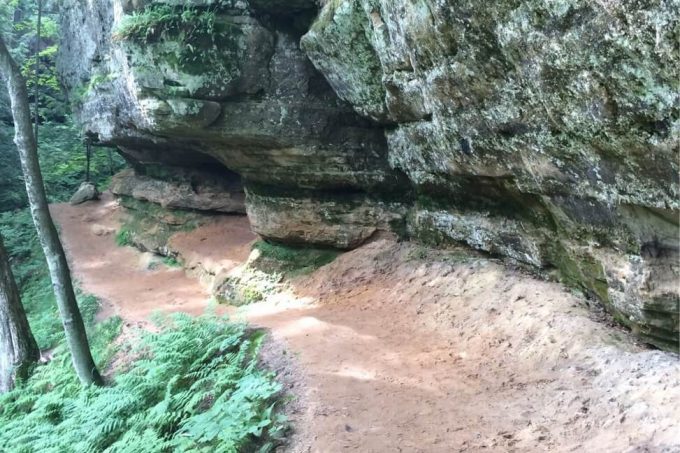 Wagner Falls is just south of Munising and is a short hike from its roadside parking lot. The path is hard-packed and smooth, making it an easy walk to the falls for your whole family.
Taqhamenon Falls
Our last stop in the U.P. was Tahquamenon Falls.
Lower Taqhamenon Falls surprised us in a wonderful way.
While camping at the Lower Falls campground, we thought we'd ride our bikes down to the Lower Falls after dinner for a quick look.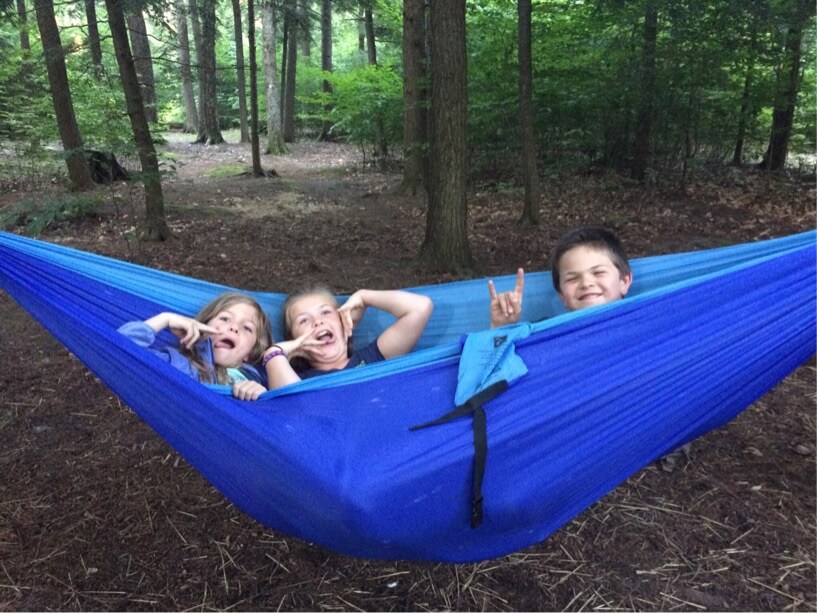 We anticipated a small waterfall, something like we'd already encountered on our hikes in Munising and Marquette. Instead, we found multiple falls with a rowboat rental. We could paddle around the lower falls and over to an island with a short hiking loop. The kids took turns testing their muscles on the rowboat and then we spent time tooling around the island. What a fun, impromptu experience!
Hiking from Lower to Upper Falls
We decided to test our legs on the four-mile trail between the upper and lower falls.
The verdict: It was beautiful, but I probably won't do it again. Oh, the MUD! So much mud. And it was a tough climb on the seven-year-old, so much so, that my husband carried her a good deal of the way. The few boardwalks we did encounter were well-placed but pretty warped. The reward was a great view of the Upper Falls and ice cream.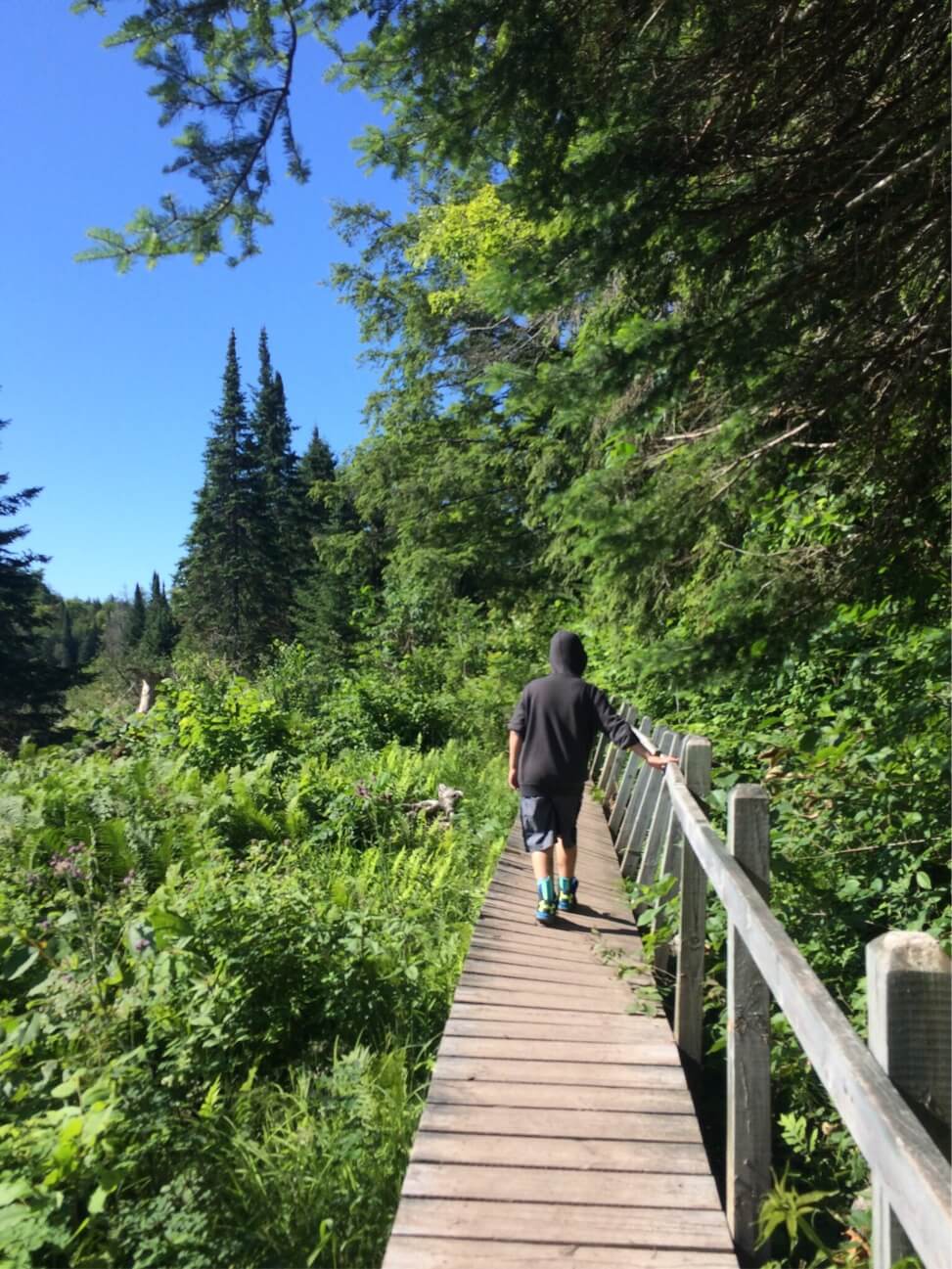 Upper Tahquamenon Falls
The upper falls are bigger, but you can't get into a rowboat to experience them. To get close, there are two viewing platforms at the bottom of the falls- requiring a lot more stair climbing.
The Upper Falls does have a great brewery on site, as well as concessions. We ate lunch and got ice cream here – there are not any other food options for miles.
We'll Be Back
I know we didn't hit a lot of things in the U.P. – I wish we could've made it over to the Porcupine Mountains, and up to Copper Harbor. And Mackinac is a whole different trip!
It was a great family vacation and we'll be back. If you've been, and have places to recommend, please tell me about them. Would love to look them up for a future trip!
[/fusion_text][fusion_text][/fusion_text][/fusion_builder_column][/fusion_builder_row][/fusion_builder_container]